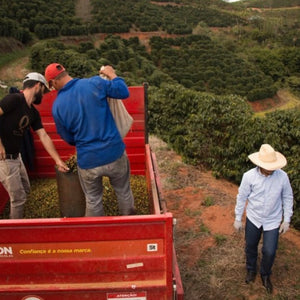 Country: Brazil

Varietal(s): Yellow Bourbon, Yellow/Red Catuai, Mundo Novo

Process:    Natural

Altitude:   1500 metres above sea level

Region:    Minas Gerais

Tasting notes:  Caramel, papaya, apricot

Located in the south of the Minas Gerais, the Farm Santa Isabel has always been recognised for the high quality of its coffees.
Owned by the Nobeltree Coffee Farms, the Santa Isabel farm was transformed into a sustainable, world class coffee bean producer.  By 2017 new crops started to harvest.  Now the older sections are experiencing rejuvenation fro stability and sustained growth.
Santa Izabel has a greenhouse/nursery that grows over 40 types of tree species that continually evaluated for producing the highest grade coffees, thriving to the Brazilian climate.  Coffees at the farm have won several awards, including the'Cup of excellence'  award, for their flavour and also for sustainable practices.  
The farm is rainforest alliance certified and trains other small producers in the region.  
A superb fragrance of chocolate and caramel in this bean.  Floral and fruity notes also - papaya, apple, honey like sweetness, balanced with a deep chocolate tone.