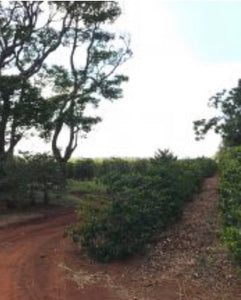 Country:   Kenya
Varietal:   SL28, SL34 Ruiri 11
Process:  Fully Washed and dried on African beds
Altitude:  1,400 - 1,600 above sea level
Flavours:  Rhubarb, Blackcurrant, Blueberry  
Eaagads estate a coffee farm owned by Eaagads company limited and it lies in Kiambu county's Thika division.  The area is well known as home to some the earliest coffee farms in the county.  
With regard to labour issues, Eaagads is committed to worker welfare.  They provide housing for all their 47 permanent employees.  During the peak of harvest up to 600 people, all of whom are well trained work to harvest and cultivate the coffee.  
Agricultural activities on the farm are commendable with an impressive stringency and attention to detail, from pruning to fertilisation. Coffee Research institute best practices are used throughout and the same goes for processing.   
Only the ripest cherries are picked at each pass. on the same day as picking, these arrive at the washing stations, sorted to remove any damaged or unripe cherries and then pulped.  The pulped coffee is then fermented for around 12 hours before being fully washed to remove any remaining mucilage.
After coffee is washed it is left to rest and soaked again for another 24 hours.  Final sorting and control checks take place at this point before delivery to the drying beds.  Drying times can be up to 12 days until the coffee reaches the optimal humidity.  The coffee is turned and sorted every two hours or so and covered during very hot parts of the day to prevent heat and sun damage.  
This is a beautiful Kenya cup with layers of interesting flavour.  A juicy finish, richly sweet notes of rhubarb, blackcurrant with some herby savoury layers.