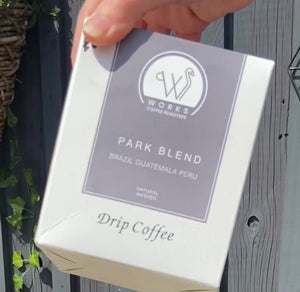 Countries: Brazil, Guatemala, Peru
Varietal:   Red and Yellow Catuai
Process:   Natural & Washed
Altitude:  1,300 m above sea level
Tasting notes: Chocolate, nuts, apple
 
These drip bags are quality meets convenience.        
We have added 14 grams of our freshly ground coffee to each sachet.  They arrive in a box of 10, all in convenient  vacuum sealed sachets.  
Simply attach the drip bag to your cup using the specially designed handles, then tear along the top of the bag to reveal the coffee grounds.
Begin to slowly add small volumes of water and allow the drip process to work its magic. Enjoy..
Sweet, chocolatey and smooth filter cup